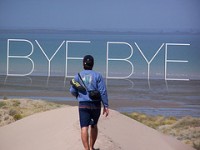 If history is any guide; you will lose about 20% of your current customers by the end of the month and 40% by the end of the year. I know it sounds terrible; but that's fact of life. While 30-40% of sales for any business come from existing customers; the rest comes from customers using revolving door. They will come and go for a variety of reasons.
This customer churn can be costly for your business. You need to constantly recruit new customers to fill the gap left by those customers who have dumped you. This costs money reducing your profit. It is said that it is 4 times more expensive to get new customer compared to retaining the existing one. We will look at the ways to stop customers from dumping you in a later post; but let's understand why they leave you in the first place. The reasons are quite varied and some are easier to correct than others.

They have not heard from you for some time.
Many a times customers simply forget about your business. This could be because you have reduced the marketing budget and cut down on advertising. At the same time your competitors are increasingly luring them with more advertising. As the saying goes – "Out of sight equals out of mind".
They are tired of your products.
If you have not updated your products for some time the customers may feel the fatigue of same old, same old. If you are running a restaurant it means you have the same menu running for many months. Let's accept it – people want change. They want to try something new, something exciting. While you are serving the same products your competitors are busy introducing new ones.
They had a bad experience.
We can all relate to this as customers. You go to a restaurant and have to wait 2 hours to get your food; or the waiter doesn't care to listen to you. What do you do? You simply stop going to that place. After all, there are many other alternatives you can use instead of being subjected to bad experience.
Your operations have deteriorated.
While this is similar to item 3 above; it is worse than that. Instead of one bad experience the customers are seeing the overall decline in the way you are running your business. This could be in the form of poor customer service, long delays, bad products and so on. Some customers may forgive you for one-time mistake; but they will not keep coming to your business after experiencing it multiple times. If you are one of these businesses you are in serious trouble. Not only does it take long time and lot of effort to correct this; but your customers may take even longer after you have taken care of the issues. Remember – "Once bitten… Twice shy".
The market has changed.
While you are doing everything right from operation and customer service viewpoints; the market around you has changed and you are standing still. May be customers are using different routes to get their product or service – Amazon.com instead of Barnes and Noble. May be there are better products in the market – cable modem versus dial-up Internet. May be your competitors are taking away your customers with better value – Best Buy vs. Circuit City. The list can go on. The bottom line is you are not paying enough attention to the market around you.
If you are in any one of these situations you will need to start taking corrective actions RIGHT NOW. These are invisible forces that can do a lot of harm to your business without you noticing it for some time. By the time you do realize what's going on; it may be too late.
Have you experienced any of these? How do you cope with this?

Related posts: