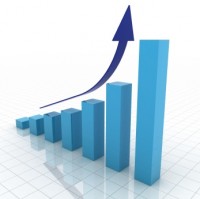 In the previous post we mentioned that many small business owners find it difficult to explain how their business is doing with the numbers backing up their words. It is even more difficult to predict how the business is going to perform few months down the road. However, it doesn't have to be this way.
By identifying and tracking few key performance indicators (KPIs) any small business owner can not only figure out how the business is performing; but also forecast where it is headed. This is no different from when the doctor checks vital signs such as blood pressure, pulse, weight, etc. of the patient to find out what is wrong or could go wrong. You only need 5 or so KPIs to get a feel of the business performance.
Typically, these KPIs will be different for different industries. For example, the retail store should look at comparable sales and inventory turnover; while exercise facility would track customer turnover and average sales per customer. Most large publicly traded companies include these KPIs in their annual reports or in the financial analyst reports.

For your business and industry you too can identify few KPIs that can be easily tracked by looking at your profit and loss statement and balance sheet. Typically, you will have some KPIs that track sales and some others that track expenses. Learning about business fundamentals through http://www.online-mba.com can guide you to better understanding of these KPIs.
Sales Related KPIs
In the simplest form, the total sales is composed of two components – price and quantity. The KPIs that drive quantity are customer count, order count, customer churn, room occupancy rate, etc. The KPIs that drive price are average order per customer, total discount, gross margin (revenue – Cost of Goods) etc.
Expense Related KPIs
These KPIs can vary from industry to industry. You can find out the ones that are important for you by looking at your P&L statement for the categories that are largest. For a restaurant and fast food place these would be food cost and labor cost. For a convenience store this could be purchase cost and real estate cost. Again, by looking at the annual reports and analyst presentations of large publicly traded companies you can find out what expense related KPIs are important for your industry.
You should ensure that the daily, weekly and monthly reports you look at include these KPIs. Also, as we mentioned in that post it is important to look at the trend over time and comparison to previous periods.
We at Angel Business Advisors also provide a service in which we analyze the financial statements and provide custom report showing how business is performing. You can use this service to analyze the seller's financials when buying a business or analyze your own financials to understand what improvements can be made. Check out here to get more details; where you can also download a sample report.

Related posts: