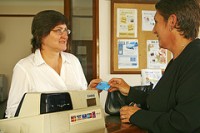 In the previous post we mentioned that you need to hear customer and employee stories in addition to looking at formal reports and metrics.
One of the ways you can do this is by asking open ended questions to your customers, employees and other business owners to understand the reasons behind numbers. Below we have identified 10 questions that will get them talking.

How are we doing in meeting your needs?
Have you seen any difference in service lately?
How was your last visit?
Have you had any bad experience from us lately? Can you give specifics? (OK, we admit that's two questions!)
Why haven't we heard from you in a while
How are other businesses in the area doing?
Are there any new businesses / competitors coming to town?
What changes would you like us to make to our products, services?
How do you compare us to the competitors?
How do you usually hear about our company?
The key to getting the stories from customers is to not give much in terms of directions. Ask these open ended questions and let them talk. Sometimes you can ask follow –up questions such as why, when, what, etc? You can also ask them to give specific examples, instances to back up their stories. But for the most past; the less talking you do the better feedback you will get.
What do you think? Have you used this in your business?

Related posts: