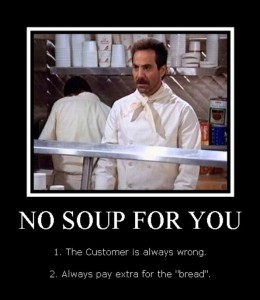 Here is an interesting news story we came across this week – Domino's is launching an advertising campaign in which they claimed that they will NOT allow customers to customize their artisan pizza. Customers cannot add any more toppings to the pizza recipe. Domino's claims that they have painstakingly perfected their artisan pizza recipe over several months and they refuse to let customers mess with it.
On the face of it, this sounds a bit weird and even risky. How can you say NO to customers who are paying with their own money? They can demand whatever they want with their money. But when you think about it some more their advertising makes sense. In fact, we would argue that saying NO to customers may work brilliantly in their favor. Allow us to explain why it is necessary to say NO to customers once in a while.

It helps you position as an authority of your industry. In this world when everyone bends over backwards to do just about anything customers ask for – whether it makes sense or not – saying no tells them you know what we are doing and you are doing the right thing that is in the best interest of customers. It helps you send consistent message to your customers.
It gives impression to your customers that your business cares about quality of products. Domino's claims that by adding toppings in their artisan pizza the customers will ruin the experience of artisan pizza they have worked so hard to perfect. It tells them – we will not compromise with our quality.
Even though customers' first reaction may be negative, deep inside their mind they will like the firm stand your business takes. In fact, they want the businesses to say no when it is not in their interest. After all, customers look at you as an expert who knows about your business. And in this world of countless choices they do want genuine, expert opinion even if it is in the form of NO.
It may happen that you will lose some customers as a result of saying no, and that's fine. You don't want all customers anyway. As we have discussed earlier, not all customers are created equal – you have to pick the "right" ones that match your business.
Finally, the publicity you get from this quirky approach is something that will not be matched by other types of marketing. Just the fact that we are writing this story about Domino's proves it. After so many years we still remember the Soup Nazi from Seinfeld television series, right?
Now, you cannot just start saying NO without anything to back that. It may work for Domino's because this is the next logical step in the evolution of their business and advertising. They launched a 'Mea Culpa' advertising campaign couple of years ago when sales had hit low and customers were fed up with their quality. In it they accepted the problems they were having and compared their pizza to cardboard. At the same time, the CEO promised to go on the offense and make it better. And it worked brilliantly. Their sales increased significantly after that and the stock shoot up 233 percent since the launch of that campaign. This new campaign is the next chapter in their journey. And we have a feeling this will take them further to new heights.
What do you think – will Domino's new advertising campaign work? Why or why not?