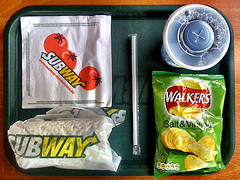 Trivia question: Name the franchise with most number of locations in the world. If you answered McDonald's you are wrong. The new king of the franchise world is Subway. It surpassed McDonald's in 2011 with 33,949 worldwide locations compared to Mickey D's 32,737. The franchise that started with mere $1,000 by Fred DeLuca in 1965 has seen phenomenal growth in the last 10 years.
Subway has been able to grow consistently year after year by following principles that can be applied to any small business. We have studied and analyzed those principles and present them below for small business owners to apply to grow their business in a similar fashion.

Strong Brand – Tell the name Subway to anyone and the immediate picture that comes to mind is healthy eating. Subway has established itself as a purveyor of healthy sandwiches with a strong focus on brand building. They have maintained their focus on maintaining and growing the brand for a long time. If you are running a small business you need to think about what it stands for and how it is perceived in the minds of customers. You also need to take actions to establish the brand and consistently promote it.
Innovative Marketing – Subway has been a standout, innovative marketer in the fast food franchise business. The "Jared Campaign" they ran for a long time was one of the most successful marketing campaigns in the history of advertising. That is what established them as healthy living promoter. They augmented this campaign by collaborating with American Heart Association to cement their position. As a small business owner, you can be successful with innovative marketing even if you do not have big marketing budget of Subway. Look at this article for innovative marketing for ideas
Competitive Response – In the 40-plus years that Subway has seen number of competitors try to topple it without much success. Every time competition has threatened Subway they have responded vehemently by introducing products and marketing to nullify their advantages. The examples are numerous – variety of artisan bread types, condiments, toasted bread, $5 foot long and so on. You need to take similar approach in watching out for competition and meeting their threat with forceful response.
Quality Control – It is not easy to maintain quality and brand image when you have more than 33,000 independent franchise operators with diverse background and experience. However, it is very importance to keep a tight rein on the empire as it grows to maintain the quality and consistency that customers have come to expect. McDonald's stumbled in this regard before they realized it and started focusing on business operations instead of growth. No matter how good you may be today if you cannot maintain quality it will not take long before customers will move on.
Keeping it "fresh" – Do people ever get tired of eating sandwiches? Apparently not. The key for Subway to continue attracting customers is to keep introducing new products or combinations every few months. This also helps them fight the new competition as discussed above. How many times have you looked at the products you sell and thought about bringing something new or different to your customers?
What do you think? Will Subway be able to maintain its top position in the future?

Related posts: