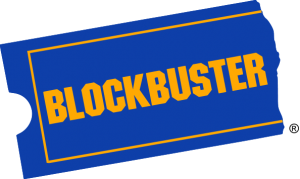 Blockbuster, the ubiquitous video rental chain of the bygone era, announced recently that they will close 300 stores in U.S. and lay off 3,000 employees. This is after they have already closed hundreds of stores over the years. The latest round of closing will leave them with only 500 stores, down from 9,100 at the peak of their business. This is one of the blockbuster failures in the American business history!  To be fair, they are not alone. Recent times have seen number of successful retail businesses wipe out from the landscape – Borders, Circuit City, the list goes on.
Blockbuster was one of the great success stories in how to build an empire by putting number of small rivals out of business throughout the country. Starting with a humble beginning they went on to consolidate the video rental industry to be the eight hundred pound gorilla. And yet, they were not immune to the law of natural business cycle when new competitors came along. There are important lessons to be learned from Blockbuster to ensure your small business does not meet the same fate.

Only the Paranoid Survives. Intel's past CEO, Andy Grove, gave us this quote. It is applicable to any business, particularly during these times of great technological changes. New technologies are lurking in every corner posing potential threat to all types of businesses. If you think you are immune to these changes, you really need to think twice! You have to stay vigilant and think about the next big change that can wipe out your business. The business landscape is littered with carcasses of businesses that became complacent and failed to see the threat.
Always Stay one Step ahead of the Game. Once you know the threat that may impact your business you have to take actions that will turn the table around and help your business rather than hurt it. Do not be afraid of cannibalizing your existing business because if you don't do that someone else will. Only those who are willing to take bold steps and move to the next big thing will be able to avoid the fate of Blockbuster. Netflix, which was primarily responsible for the demise of Blockbuster, is a perfect example of how to do it. They have been constantly reinventing their business model – from DVD by mail to video streaming to original programming.
Learn to Leverage your Assets. While you are trying to stay one step ahead you should not afraid to leverage the assets you already have. Blockbuster had a great brand and the database of millions of customers with their purchase history and preferences. They could have used this to move the Internet age and reinvent their business.
Listen to Customer Gripes. It is easy to ignore customers' gripes when you are in the dominant position in your industry. Customers hated late fees charged by Blockbuster, but it was just too greedy and did not change its practice even after numerous customer complaints. The competition, Netflix, understood this very well and took advantage by changing the business model and eliminating late fees. Customers walked out of Blockbusters in droves as a result.
Watch out for Amazon. Be afraid, be very afraid!! If you are in the retail business, chances are you will compete with Amazon at some point. Amazon, with its scale and technological advantage has wiped out large businesses entirely – Borders, Circuit City along with many other small ones. They continue to enter new product categories and lower the price in every one of them. It doesn't mean that you will never be able to compete with them. You just have to learn how to compete with larger rivals as we showed in an earlier post.
What do you think? What other lessons can you learn from Blockbuster's failure?
Related posts: