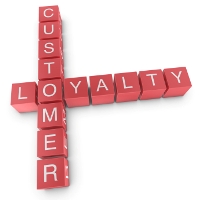 Every business loves to attract new customers. After all, these new customers help them get additional sales and improve profit. We are all familiar pre-approved credit card offers we receive in the mail every week, where the goal for these companies is to find new customers. Unfortunately, in the zest to attract new customers these businesses forget to pay attention to the customers they already have. As a result they are in constant churn mode of losing existing customers and finding new ones.
This is unfortunate because as it costs a lot to attract new customers. It also takes time before these new customers are profitable. Not only are your existing customers more profitable, but the ones that are loyal to your business can help you improve sales without you having to spend a dime on marketing. These customers already love your business and products, which is why they have been loyal to you in the first place. Not only will they keep coming to your business regularly, but they will promote it to their friends and families through word-of-mouth.
If there is one area that businesses neglect to pay attention to is harness the power of existing customers to recruit new ones. The steps described below will help you identify those customers and ensure they remain loyal to you forever.
Identify those loyal customers. Having an insight into who your loyal customers are is the first step before you can do something about them. You need to have a good grasp on churn rate (how many customers you lose every month / year)
Get their feedback. You need to have a good understanding of what these loyal customers like about your business. At the same time, you also need to know what improvements they would like to see.
Engage with them. Social media sites such as Facebook and Twitter are powerful tools you must use to engage with customers on a regular basis. Not only you can promote your business through these channels, but you can also get valuable feedback on how your business is being perceived by your customers.
Go beyond their expectations. In this world of hyper competition just giving what your customers want is not enough. It's when you go beyond their expectation with a surprise factor that you will be able to keep those customers for life. Look no further than Apple to see the power of unexpected.
Make them feel special. You need to let loyal customers know that you value their business and provide them with recognition and incentives to show as such. Airlines do a nice job of showering their frequent fliers with special attention. Those platinum status holders not only get free first-class upgrades and access to airport lounges, but they also give them special phone number to help make their travel as smooth as possible. Many businesses have a program called Employee of the Month. How about recognizing Customer of the Month with special mention.
Keep your business exciting. Even after you do everything for them some customers will get bored after a while. They will want to try something different, something exciting, which is why it is important not to let your business become stale. After all, the competition is not standing still. You have to continue to bring new products and promotions for existing customers to find variety.
What do you think? How much do you spend on attracting new customers versus keeping existing ones? Let me know in the comments.