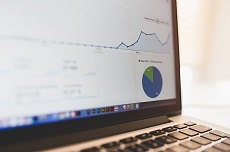 Web analytics is one of the cornerstones of having a successful website. It's essential for any business to have a site that performs well in the modern age. Anyone who wants their online efforts to be as good as they can be, needs to be able to analyze the numbers and trends. If you can see and understand why a certain event or trend is occurring, you can correct, recreate or improve on it. The art of web analytics allows for you to do this, whether you do it yourself or hire a pro. If you think your business needs to make better use of web analytics, use this guide to find out how.
Know What You Want to Achieve

Before you do anything, you need to know what your goals are. Without knowing your objectives, you would end up aimlessly looking at random metrics. You need to know what you're trying to do so that you know what to track. You should consider what you want your website to do, whether it's a significant or small goal. You can split these aims into macro and micro goals. The former is something that's of more importance, such as selling a product. A micro goal is usually connected, but it has less significance. It could be something like a newsletter sign-up or watching a video. Defining your objectives first will make it easier to make the right moves.

Hire an Analytics Manager

Some business owners may choose to handle all web analytics for their site on their own. However, others prefer to hire a recognized expert in the field. Of course, this will cost money. But there are many benefits to having someone experienced on board. Firstly, you can consider outsourcing the process, rather than hiring a full-time employee. It can much cheaper than having an extra member of staff, and you still get someone working with you closely. Having someone with the right skills to do the work for you can be much more reliable than doing it yourself. You can still stay in touch with the analytics process. But they can make sure you're going in the right direction.

Train Your Staff

Offering training to your staff can improve their skills and performance. Even those who already have a solid foundation can benefit from further training. Undertaking Simplilearn web analytics training is an ideal way for them to improve their skills and knowledge. An online course allows them to complete training whenever they're available. So they can work on it at work or home. Investing in training for your staff shows them that they're valuable. It helps you to retain them, reducing turnover. An advanced course will help them explore the science of web analytics further.

Become an Expert

Another option is to become a web analytics expert yourself. Many small business owners don't have the resources to outsource or hire someone for every process. So they take on the role of almost everyone in the company, from CEO to account. Of course, you won't become an analytics genius overnight. One short course or a bit of research isn't going to give you all the knowledge and expertise you need. But with time and effort you can teach yourself how to use some of the fundamental skills. Once you can grasp the basics, it will be easier to understand and learn about best practices and how to use them. A course, whether in a class or online, can help you to get started. There are many other great resources you can use too, from blogs to networking events.

Use the Best Software

The use of the right tools and software is fundamental to the success of your analytics efforts. They can help you to ensure that you're tracking the right metrics and that you know what to do with them. Google Analytics is usually the first tool that anyone begins with, and it can be very useful. It will help you to track many of the fundamentals and find trends in your data. However, it isn't the only useful tool for web analytics. There are a number of other pieces of software that can prove to be valuable for your website. Other options include Clicky Analytics, Mint, and Coremetrics. Each choice has its own benefits, so consider which ones to use carefully.

Know Which Metrics to Measure

Of course, you won't get far if you don't know what you should be measuring. Knowing what your goals are will help with this. If one of your objectives is to increase your newsletter sign-ups, you know that's one of the things that you need to track. Don't just track any metric that occurs to you because everyone else is doing it. It needs to deliver value to your website by giving you clues as to how you can reach your goals.

Stay Up to Date

Every industry and professional field moves fast. Some move faster than others, but it's always essential to keep an eye on progress. When it comes to anything online, you need to pay attention if you want to keep up. Staying up to date with what's going on in the world of web analytics isn't too hard. Just like any other subject, you'll find hundreds of resources online. However, choosing the best authorities to listen to is what's important. You need to find the experts who know what they're talking about. Find people who are ahead of the curve so you can hear about new trends first.

Translate Numbers into Action

All those numbers don't mean anything if you don't do anything with them. It's all very well have useful data, but you need to use it too. Knowing how to take those trends and use them to inform your actions is essential. You need to know not just how to track the numbers, but how to interpret and act on them too.
You need to use web analytics if you want your website to be successful. To get the most out of them, hire an expert or start learning.
Related posts: