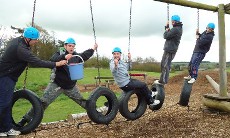 Many of us have either participated in or led team building activities in our professional career at some point. Some of those activities may have been very straightforward and short such as playing a game of "two truths and a lie" or "find your way out." Others could be very intense and may have spanned over multiple days such as climbing a peak or going on a long hike. No matter what the duration or type of activity, it is well-known that team building can help improve communication and employee morale, leading to a better business environment overall.
Team building activities can take on many different forms and can be used for multiple purposes. Some ice breaker activities are good to get employees to know each other while others such as problem-solving activities can help strengthen cohesion between different teams. Some activities can be done in a short 30 minute window, while others can be structured as dedicated activities in a remote location over multiple days. Team building activities can provide a number of benefits to all types of businesses, no matter what their size or type of activity. Here are some of the benefits you can achieve from team building activities:
Improve Teamwork – No organization can achieve its goals by relying on a few individuals. The success of any business is dependent on its employees working as a team. The team building activities can show employees the strengths of their peers and how they can work together for the greater benefit of the business.
Motivate Employees – According to research, organizations with higher than average levels of employee engagement realized 27% higher profits, 50% higher sales, 50% higher customer loyalty levels, and 38% above-average productivity. Team building activities can show employees their greatest potential and allow them to give their best effort not only during the activities, but also in the normal course of business afterwards.
Get to Know Other Employees – It is amazing how much you can learn about your fellow employees during team building activities that you would never have known in the several years of working together. When you are interacting with other employees outside the work environment, it brings forth a different side of their personality. This helps fellow employees, as well as their leaders, understand the employees better and improves collaboration and coordination. As shown in this infographic 27% of employees who plan to leave within the first year cite feeling "disconnected" to the organization. Providing an avenue for them to meet new colleagues and make new friends at work has tremendous impact on employee retention.
Improve Communication – Communication is essential for any business to operate smoothly. Certain types of team building activities force you communicate with fellow teammates which then carry over to the work environment later on. Bringing employees from different functional areas together helps build rapport across all areas and improves the operational performance of the company.
As you can see, team building activities can help businesses improve their performance by building a better team that collaborates and communicates for the benefit of the company. However, you should keep in mind that the outcome of any team building activity is only as good as the effort you put in organizing the activity.
Not everyone can come up with activities that don't put the participants to sleep. You not only have to make them interesting, but also challenging for everyone. You also need to make sure not to violate any HR policies by having activities that makes some people uncomfortable.
I have come across several team building activities that put employees to sleep or made some of them hesitate to participate. It could be best to hire external consultants to help you build the activity that matches your goals and also facilitate them. These coaches have honed their skills in designing and executing team building activities over a number of years. They understand what types of activities are suitable for certain goals as well as types of organizations. They can also make them very engaging and challenging for everyone.
Team building activities can help any company improve the performance of their employees as well as leaders if done right. Look for the activities that align with your goals and ensure that they are executed properly!
Related posts: