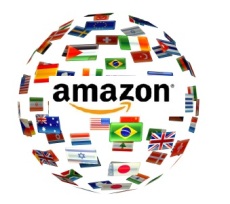 It's no big secret that Amazon is the world's largest online retailer. The e-commerce giant started out life as a small website that just sold a few books. Today, you can go on the Amazon website and buy just about anything! Yes, they still sell books. But, you can also get electronics, homewares, even food!
Jeff Bezos, the guy behind Amazon, is worth around $66.9 billion. And all that from a small e-commerce website founded back in 1994. Now, I know what some of you are thinking. Amazon got established during the Web's infancy. There's no way anyone could start an e-commerce store and topple Amazon today! Or, is there?
Amazon does have some stiff competition from the likes of eBay and AliBaba.com. Plus, many promising new e-commerce sites look set to grow at a rapid pace! Are you thinking of setting up an online store? And have you ever wondered if you could be as big as Amazon?
In short, the answer to the latter question is yes. You just need to have a combination of excellent business skills and timing. Let me give you a few examples of what has made Amazon the success that it is today. I'll also give you some pointers that can help you speed up growth for your e-commerce site:
Cheap prices
One of the many reasons for Amazon's success in the e-commerce world is their prices. For the majority of products, Amazon is significantly cheaper than other online sellers. Part of their business model involves buying lots of stock at the lowest prices possible.
Amazon is quite strict when it comes to price negotiations these days. They know they are a big brand name, and they use that to their advantage. But, what did they do during their early years? Well, e-commerce was in its infancy back in the mid-1990s. They just happened to be around at the right time.
You might be wondering how any of this can help you today. Especially if you've only got a small, modest budget. You might not think it, but it IS possible to negotiate favorable rates with suppliers. The trick is to find wholesalers and manufacturers that are willing to do deals with you.
Some suppliers might want to see proof of your sales history before offering discounts. Others may only agree if you buy specific volumes of goods from them per order. Whatever you do, make sure you only agree to terms that are right for you. Don't agree to anything just for the sake of selling a particular brand.
Lots of warehouse space
Amazon is an online retailer known for its cavernous warehouses. Or, to use their term, fulfillment centers. Their warehouses are often bigger than several football fields put together! That gives Amazon the edge when it comes to buying stock. They can store vast quantities of goods and always have items available for customers to buy.
As a new e-commerce retailer, it's unlikely you can afford to buy and run such vast facilities. That may even be the case if you have some venture capital investment as well! Still, the news isn't all bad. Did you know that you can outsource your logistics?
There is a raft of warehouse facilities service providers out there. Companies like Red Stag Fulfillment can handle all your stock storage and shipping needs. Best of all, you only pay for what you use. That means you don't need to lease a huge warehouse and pay for it all despite using just a fraction of the space!
Affiliate marketing
It's interesting that Amazon gets their customers to do their marketing for them! In case you didn't know, there is an "Amazon Associates" program that anyone can join. They make no charge for being part of the affiliate scheme.
The idea behind Amazon Associates is that you market the brand and the products sold on the site. When you direct paying customers to their site, you get a cut of each sale. Commission rates can be quite generous, and they provide a range of tools to help you get started.
It's also possible to embed products on your site that link through to the relevant Amazon page. Affiliate marketing is a big deal these days as it's a cool way of making a passive income.
Amazon has grown to the size it is today thanks, in part, to its affiliate marketing. Back in 2008, they claimed to have around two million affiliate marketers. It's likely that figure will have increased a lot today.
If you want to market your brand, affiliate marketing is a useful way to do it. Affiliate marketing can work well for your online store because you only pay for results. Whereas with PPC marketing, for example, there's no guarantee that you'll get any sales.
Shared marketplace
When Amazon first started out, they only sold products they sourced and stocked themselves. Nowadays, one can buy goods from Amazon supplied by other e-commerce sellers too.
Amazon has now become a shared marketplace. In essence, they are like eBay in that anyone can sell products on their website. The only difference between Amazon and eBay, of course, is that Amazon sells items direct as well. eBay is just a platform set up for people to buy and sell from one online property.
The idea of a shared marketplace might not fit in with your plans at first. But, it's worth considering for the future. Don't forget that you can take a commission from items sold by other sellers on your site. That's something Amazon (and eBay) do. One example of an online store that offers shared marketplaces is Rakuten.
Value-added services
E-commerce giants like Amazon aren't just online stores. They also offer a plethora of useful services to their customers. In Amazon's case, it has done so through some company acquisitions.
For instance, it offers movies and entertainment on demand through its Amazon Video service. In Europe, the service comprises of elements from Lovefilm.
Another value-added service is its Prime membership scheme. For $99 a year, customers can enjoy "free" two-day shipping on most orders. In some areas, orders can get delivered on the same day. Prime also includes free movie and music streaming, plus access to free ebooks.
Now, you might be thinking that is rather ambitious for your e-commerce site. What you could do is perhaps offer a free next-day shipping service. In return, customers pay a one-off annual fee. Such a value-added service will encourage people to buy from you more often.
High levels of customer service
It's a sad fact that many of us are now used to mediocre customer service. Companies like Amazon have made their brand customer-centric. That means the people that buy from them are their top priority.
They offer 24/7 customer service by telephone, email and live web chat. When it comes to returning goods, Amazon will usually pay for the return shipping costs. In some cases, customers just get a refund and can keep the goods on low-value products.
Those are just some of the reasons how Amazon has become such a mainstay in the e-commerce world.
Final thoughts
There is a lot that Amazon offer that compel consumers to buy from them. New and growing e-commerce sites can take some of the brand's features on board. The good news is a lot of what Amazon does is easy to replicate. And it doesn't mean you need a big budget to do so either!
Related posts: