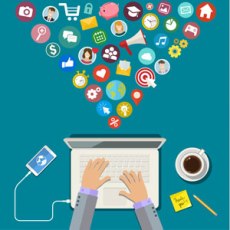 If you run a small business that provides an essential service for homeowners, you will certainly not have a monopoly. In fact, there are so many people who have quit their job and decided to go it alone, that whatever your chosen field of expertise, be prepared for some stiff competition. Your marketing will very much define your market share and by analysing your target group and finding out how they source essential services, you can soon begin to see a clear picture.
Online Directories
Many homeowners are well-versed in using the Internet to source a range of goods and services, and a local business directory is the ideal place to begin your search. You might be trying to locate freezer repair companies, or someone to fix that leak on the roof, and by typing in your location and type of service required, you will soon see a list of reliable companies that service that area. For the small business, having listings will all the major local directories is an absolute must, as this is where a majority of consumers look. If you require further proof of the effectiveness of online business directories, here is an insightful article that highlights the benefits.
Company Website
Of course, like any business, you will need a website, and if you are offering services to the homeowner, this should be immediately obvious. People do not like to waste time and if your website is easy to navigate and contact can be quickly established you will have a better chance of securing the business. There are a number of strategies used to increase website traffic, and the best solution is to enlist the help of a digital marketing agency, who will take a close look at what your business actually does and put together an effective online marketing campaign. A great many people use search engines to source services, and if your website is not search engine optimised, many consumers will simply be unaware of your existence. The algorithms of a search engine are complex to say the least, and as they are constantly changing, SEO services are always in demand.
Social Media Websites
No company can dismiss the importance of social media sites like Twitter and Facebook, and by creating an account in your company's name; you can effectively build up a large following. You don't have to advertise your services all the time, and by posting informative articles that are relevant to your industry, many users will visit your page regularly. Smartphone development has allowed consumers to order using their mobile devices, giving them an unprecedented level of convenience, whether sourcing goods or local services. If you know how consumers are placing their orders, you can focus on these platforms, and with professional guidance and tracking, you will soon discover which of your online strategies are working.
The marketplace is a tough arena for any small business and by using the experience of an established digital marketing agency, your message will reach a higher number of consumers across a range of digital platforms.