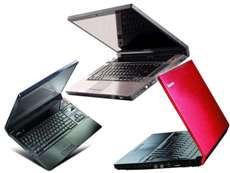 Smartphones are becoming more capable, but they are not ready to replace a good laptop just yet. The tactile keyboard and processing power offered by today's business laptops make them great tools for even the most demanding tasks. Business laptops are also more rugged and are more capable of taking a beating compared to consumer-grade alternatives.
You can find a lot of business laptops on the market, from affordable options that start at around £300 to more capable machines with the latest Intel Core i7 processor. Here are the best business laptops to consider in 2017.
Lenovo ThinkPad 13
ThinkPad is one of the leading brands in the business market. Over the years, ThinkPad series of laptops caters to the specific needs of business users. The understated design and stunning computing performance make ThinkPad laptops very popular among users.
The Lenovo ThinkPad 13 is no exception. You can still see the classic ThinkPad design lines the moment you lay eyes on this device. It is a budget option for workers who are looking for a capable laptop for everyday tasks. The latest iteration uses Intel Core i3-7100U, 4GB of RAM, and SSD storage for that extra oomph.
If you're looking for a more capable ThinkPad, then the Lenovo ThinkPad X1 Carbon is the one you want. There are several versions of the X1 to choose from, but the one with Intel Core i5 offers the best value for your money.
Dell XPS 15 Touch
Ignoring the Dell XPS line of laptops is difficult. XPS's signature infinity display is causing many laptop manufacturers to rethink the designs of their products. You can see just how magnificent the infinity display is with the Dell XPS 15 Touch. Not only will you get a 4K LCD panel that stretches from edge to edge, but you will also get touch capabilities.
Dell XPS 15 Touch is an excellent performer. It uses Intel's Core i7-7700HQ, the top Kaby Lake laptop processor from Intel. It also includes Nvidia GeForce GTX 1050 for better graphics performance and a whopping 512 GB of SSD storage for all your files. It comes with 16 GB of RAM, but you can choose to expand it to 32 GB with a memory module from offtek.co.uk. It is a laptop that will eat the most demanding computing tasks – including video editing and 3D rendering – and have room for dessert.
HP ZBook Studio G3
The HP ZBook Studio G3 is a business laptop built from the ground up to keep up with specific tasks. Instead of using Intel's consumer line of processors, it uses Intel Core Xeon E3-1505M v5 paired with 32 GB of RAM. It also includes Nvidia Quadro M1000M. Can you see why the laptop is configured this way?
Yes, the HP ZBook Studio G3 is a mobile workstation. 3D design and rendering, CAD, and other demanding tasks you need to complete on the go will be so much easier to do when you have the ZBook by your side. A word of warning though: it weighs a bit more than 2 Kg.
All of these options are capable machines that are reliable and valuable. The best business laptop on this list is the one you pick one based on your specific needs and requirements.
Related posts: