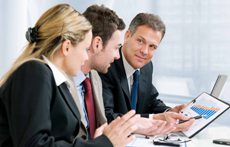 Most successful business owners are good at one thing, be it sales, marketing, or even designing a best-selling product. However, what they are not so good at is planning for the future.
When you are working hard to establish a business, it is easy to forget about the long-term future. Your only concern is to be successful in the short and medium term. You certainly don't have time to think about an exit plan or saving for retirement. You probably don't want to think about boring stuff like insurance, investment plans, or taxation either.
However, this is a huge mistake. One day, in the dim and distant future, the time will come when you decide to hand over the reins of your business to someone else so you can enjoy the fruits of your labor. Unfortunately, if you haven't planned ahead, you could end up with very little in the way of retirement funds or capital.
A good finance advisor can help you with several issues, so don't be one of the 60% of small business owners who have never bothered setting up an appointment with a financial advisor.
Succession Planning
Have you considered what will happen when you want to retire from the business? If not, now would be a good time to think about the future. You have a number of choices, including selling the business as a going concern, handing over the reins to a family member or business partner, or dissolving the business and walking away. A financial advisor will help you devise the best exit strategy.
Retirement Planning
Retirement may be a long way off, but it is better to start planning sooner rather than later. Wasteful spending can significantly influence your future retirement aspirations. A financial advisor will advise you how to cut costs, invest capital, and choose the right retirement plan for you and your employees.
Wealth Management
Wealth management is a complex field. Financial advisors will put an investment plan in place to help you maximize your assets. They will work with you to ensure the health of your business and personal wealth so your future wealth is not jeopardized.
Insurance and Protection
Do you have the right insurance plans in place to protect your business, your family, and your employees? Insurance is essential, but with so many different products to choose from, it can be difficult to make an informed decision. A financial advisor will be your personal guide to the insurance market, helping you invest in the right products for your business.
Taxation
Nobody likes to think about tax, but taxes must be paid, no matter what. Financial advisors will steer the business in the right direction and help you manage your taxable income in a variable financial climate. If you don't want to pay too much tax, it is a good idea to have a financial advisor on your team.
Ask for personal recommendations from your accountant before hiring a financial advisor. It is best to deal with someone who has plenty of experience dealing with small businesses.