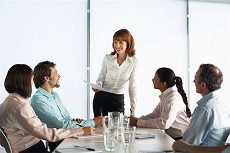 Businesses are increasingly using freelance talent in their workforce to either supplement what they already have, or replace the need for permanent staff. This can be a good idea, especially for smaller companies who want the team to work on projects, but don't necessarily have the finances to hire someone full-time. Finding the right freelancer for your business is relatively straightforward, but there can be hurdles that you need to overcome.
When working remotely with freelancers, you have to talk with them effectively to get the best results and keep them on schedule; this means acquiring the right software, IT systems and communication platforms such as Skype. Here are some useful tips on improving your communication with your co-workers.
Communication
One of the single most important actions you can do is to maintain regular contact with your freelancer. It might not always be easy to do, regarding time differences and language barriers, but you should try to remain in touch as much as possible.
Applications such as Skype and Google Hangouts, are effective ways to either speak or conduct a face to face meeting with your co-workers. That way, they feel part of the team, and you can manage their workload. These applications are also cost effective.
If you are in charge of hiring freelancers, then consider what your aims are from the beginning. If you want to work with people in your country and time zone, be clear about this from the beginning; then you will not get freelancers from other nations applying. Similarly, ensure that you detail all the work involved so that there are no surprises.
Effective Software
Using the right software to send work back and forth is essential to keeping efficient workflow. You should incorporate a schedule where freelancers update their hours of work, so you can keep them busy without overwhelming them.
Individual host sites such as Umbee Hosting can provide applications that can be accessed through their remote cloud infrastructure. These help your co-workers work more proficiently and manage their workload. They can access important documentation, and data. You can contact them for more information on how their flexible models can benefit you.
Realistic Deadlines
Every company has deadlines and projects that they need doing straight away. It can sometimes be easy to forget that freelance co-workers might have other work that they need to do. This is why it is always best to ask them how long something will take, or if they have some time to devote to your work.
The other alternative is to arrange set times that your co-workers will work each day, that way you will both know what to expect. Also, when you are sending work to be done, have a deadline with the project so that everyone knows when this needs to be completed. It will make a big difference in the long run, and you will not get into stressful situations.
All of these things are massively significant when it comes to keeping the relationship between freelance co-workers happy. Hiring freelancers is an effective way to boost productivity as many businesses have discovered. If everything is handled in the right way, then it is a beneficial working relationship for everyone.