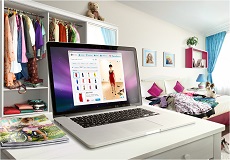 The popularity of fashion e-commerce portals has skyrocketed in India in the last 5 years. As a result of it, small to big brands selling apparels to lingerie are mushrooming day by day in various parts of the country. Consequently, they are giving a tough competition to the established physical stores who are also launching their online portals to get a hold of the whole online marketing scenario. However, their success rate is low in comparison to the e-commerce portals. There are various factors that give the fashion and apparel e-commerce in India a meteoric rise in the last couple of years.  Let us figure out their present standings and their future growth in India.
International brands, designer outfits, luxury watches etc. are now available on leading e-commerce sites and people prefer buying such expensive things online as they get discounts, cash back or points on every purchase. The e-commerce giants successfully assess the consumers' mind in India and that's why they have come up with the following tactics to make maximum profit.
Discount, discount & discount:
The key strategy of addressing the mass and getting a distinctive position wouldn't have been impossible if they didn't offer the lucrative discounts. Whether it is a BUY 1 GET 1 free or flat 50%off, the online customers easily get hooked to the fashion sites when they get a premium brand within their budget. Buying the same product in a physical store has always been beyond their reach and the e-commerce giants perfectly hit the bull's eye with their discount strategy.
Doorstep Delivery:
Without any hassle, the buyers are getting their products at their doorstep which is also a prime cause for loving online shopping. People leading an erratic work schedule hardly find time to buy product visiting multiple stores and online shopping opened their several doors to shop a plethora of items with just a clicks at their convenient time. Unboxing the products sitting at home is a more comfortable choice for them.  Some renowned portals also offer same day delivery that makes them a more popular choice among the online buyers.
COD, the best option:
At the beginning of the e-commerce storm COD was not applicable to many sites and even some of them used to charge extra for it. Now the scenario has radically changed in the favor of the buyers. Sites are offering free COD option on purchasing on or above a certain amount of Rs.500 or 1000. This makes it more acceptable to the buyers who actually prefer to pay the amount while receiving the purchased items. This customer-friendly move definitely helped them get more true followers.
Mobile App version:
Nowadays, shopping is possible while you are traveling by train, attending a boring lecture, waiting in a queue, or anytime and anywhere you want with the help of your smart phone. All eminent fashion apparel sites have their App versions that you can flip through to place your order instantly. To insist the customers buy more sometimes multiple offers appear only on ordering using the App. So, online shoppers are getting more options in terms of discounts and shopping methods.
Look book works:
Fashion apparel portals are not limited to dresses only. They offer multiple products including bags, jewelries, shoes etc. So, it is more like a one stop solution for the shoppers and a treat for the eyes. With the new launch of look book, you can pick different fashionable items like dress, shoes, neck piece etc. and check out on the site to know how it will look.  LimeRoad, a fashion e-commerce also insists on posting the look and they also offer points if your look book gets likes. This new trend allows the fashion freak to select their desired items wisely.
Brand is the new cool:
These days, people are brand conscious but affordability is a big concern for them. Thankfully, e-commerce portals with their discounts allow them to get everything within their budget. But that's not all. Big brands like Nike, Luis Philippe, Allen Solly, VeroModa etc. are available on any renowned fashion e-commerce like Myntra, Flipkart, Jabong, and more.
If you see the ads for such brands you will be surprised to see that they mention their existence on eminent fashion portals. It clearly says that they have a tie up with your favorite shopping portals and it increases the credibility of the products that you are buying from the site. However, physical stores are now having their own portals. For instance, Fab India has a popular online existence where you can get only their products ranging from fashion to beauty to furniture and more.
The future of E-commerce in India:
The way it's gaining its popularity in India, it is expected that all major physical stores will have to open their online site very soon. Shoppers Stop has already launched their site and Westside products are available on Tata Cliq, a relatively new name in the e-commerce genre. In the coming years, more portals will entice you to buy your apparels online only.
E-commerce portals are working on their delivery system with a motto to reach out their buyers on the same day. However, some of them also feature the same day delivery but it is on selective products and for a specific zone.
Ordering from Mobile Apps is now a trend but mobile versions are not user-friendly as their main site. It is expected that the e-commerce sites will come up with a better version as mobile users are more potential buyers and they spend more time on checking out things rather than using laptops or PC.
Those days are not far behind when crazy shopaholics will visit the physical stores only to check the look and feel factor of the attire. After examining it, they will place the order online to get it at a discounted rate.
It will be interesting to see the struggle of the e-commerce for their popularity as so many new names will be added to this group in each year Like Fashionbuzzer, 6Degree, CoutLoot, Roposo, Blinge, Shopwati and Hoppingo already come in battle of online fashion industry. Similarly, new marketing strategies will be launched to retain the customers and attract the others. In a nutshell, the rising future of the e-commerce will certainly leave a positive impact in India's economy in the next five years.
Author – Nirdesh Singh
Age – 36 Years
Bio – Nirdesh Singh has 10 years of experience in IT sector. He decided to start his own development company in 2012 and founded Zedex Info Pvt Ltd. where he is director also. He is also co-founder of fashionbuzzer.com a fashion e-commerce portal in India. He has researched upon various Business ideologies and methodologies which has enhanced his expertise and credibility in this arena.  He loves to write and share about technology, startups and business very often related to his business.
Social Links –
https://twitter.com/Nirdeshsingh82
https://www.linkedin.com/in/nirdesh-singh-976810105/
https://www.facebook.com/nirdesh.singh.7