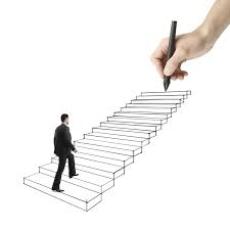 You've set out on your own and established a small startup that has morphed into an enterprise that is hiring people and growing. Maybe, you even had a brilliant idea, actualized it and got the funding required to get on your feet. Regardless of how you started your business, it is important that you continue pushing on.
Now is not the time to rest on your laurels; you have to keep up the momentum to reach even loftier goals. With that in mind, you realize that you are no longer just competing with local businesses, but going head-to-head with top industry brands as well, and here are five strategies to grow your business to the next level.
Build an App
The mobile app market is growing at a breathtaking rate. thousands of new concepts hit the  app stores every week as consumers grow ever more reliant on their mobile devices. The opportunities for businesses capture a loyal audience are almost unlimited with app technology that will literally put your brand in consumers' pockets. Whether objective is a powerful loyalty program, communicating deals and special offers, e-commerce, or any other digital strategy, a good app development company can help guide your product in the right direction.
Update Your Technology
If you are not taking advantage of the flexibility offered by the latest technology, it's difficult to stay ahead of the game. For example, many growing businesses struggle to handle their IT requirements in-house. Outsourcing your IT needs to a streamlined hosted solutions will help get you up to speed. Outsourcing helps you take advantage of the latest technologies while slashing your capital expenses since you don't have to hire an IT team to maintain your hardware. In addition, you can easily scale up or down bandwidth depending on your needs.
Use Responsive Design
Surprisingly, only 1.53% of mobile device users, compared to 4.43% of desktop users, are converting to become customers. However, this should not stop you from targeting Smartphone users. While your competitors are busy fighting for the non-mobile user, you can stay ahead of them by boosting your mobile conversion rates using a mobile responsive website.
A responsive site means that your users can still get the same information no matter what device they are using – whether it's a desktop, Smartphone or tablet. In fact, responsive websites are easier to navigate, meaning that your users will spend more time on the site and are more likely to convert.
Improve Website User Experience
If you want your startup's digital marketing campaign to yield serious positive results, look beyond website traffic. Ensure that your website's navigation and design are optimized so that online visitors will want to stay online and check out your content. Simplify the navigation by getting rid of unnecessary elements and adding a prominent search box to eliminate clutter while improving load time.
Connect with Influencers
Influencer marketing provides startups with a cost effective way of raising brand awareness, engaging customers, generating leads or driving conversions. You have the option of working with micro-influencers (brands or individuals with a significant reach in your niche) to boost your digital marketing efforts without having to borrow thousands of dollars. Influencers are usually considered trustworthy, provide respected opinions or offer expert advice accompanied by product recommendations.
While there are many "foolproof" digital marketing methods out there, your primary goal should be to distinguish yourself for the competitors. To do this, you need to break free from the herd and use the digital marketing tips above to take your business to the next level.