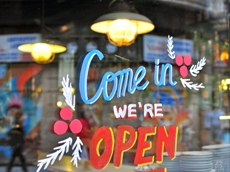 Once upon a time, small business owners wondered whether they really needed a website. They asked themselves what getting online could do to help them, and wondered if it was worth the effort and associated costs. Nowadays, small business owners are as likely to ask themselves whether they really need a brick and mortar store. More and more businesses are starting up online. It's estimated that there are over 3 million eCommerce stores in the world. Of these, a good proportion exists solely online, with no brick and mortar storefront whatsoever.
This is fantastic. The internet gives people extraordinary opportunities. People with fabulous ideas, but no startup cash suddenly stand a chance of making a go of a business without huge loans or appealing to investors. Everyone has the chance to do something for themselves and to change their lives for the better. It's one of the ways the internet has enriched the world.
Yet, it's important to recognize that brick and mortar stores still play an essential role in driving sales and growing a business. Only 9% of sales in the US are from ecommerce. While that statistic is higher elsewhere (17% in the UK), and is expected to rise quickly over the next few years, before perhaps even overtaking physical retail sales, it's not there yet. People trust people, much more than they trust computers. While online shopping is fast, convenient and often cheaper than shopping in the real world, people like to speak with people and touch products. Shopping for many is still a beloved sensory experience. So, taking your business offline could be a great way to find new customers and boost sales massively. Here's what you need to do.
Think Location
To be successful, your store needs to be found. This is a bit more complicated in the physical world. You'll need to find somewhere that your products can do well, without too much direct competition, but with excellent footfall.
Layout
Your brick and mortar store, just like your website, needs to offer a fantastic customer experience. Make sure everything is easy to find, and that your products flow nicely. You should also check the smaller details, like making sure everything is reachable and that there are no hazards.
Décor
Shops, again, like websites, should be nice to look at. White space is very fashionable. So, contact the Armstrong steel corporation for advice on installing a steel and glass roof which allows you to let in as much natural light as possible. This is especially important if your store is big.
Then, think about the details. Your products should do all of the talking. Make sure your décor doesn't overwhelm or overpower.
Customer Service
The most crucial part of brick and mortar stores is customer service. This can be what sets you apart, gets you remembered and keeps your customers coming back time and time again. If you are employing staff, make sure you are all working on the same brief. Be friendly and polite, go the extra mile when it's needed and be honest, even if something goes wrong.
Taking your business offline can be an excellent way to expand and grow. Just make sure you take the time to do it right.