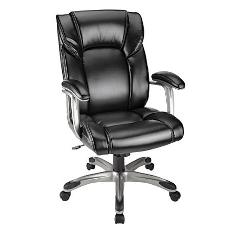 When an average business person or company employee works for 8 hours a day in an office chair, he or she is sure to sit in it for the next 1900 hours for the entire year. That's pretty much a long time, right? If you'd multiply that by the number of years one works, you'll be surprised to find out that a large portion of one's life is spent in an office chair. Interestingly, other people spend more time seated more than they spend sleeping. Thereupon, investing in a comfortable and supportive office chair for both your office and home can be worthwhile.
What to look for in an Office Chair?
Of course, office chairs are part of office décor. However, one should not overlook the health influence the chair will have on the user for a good-looking office seat. When searching for executive chairs online, make sure they have the following features;
Lumbar Support
A good office chair should offer support for your lower back. A chair with adjustable lumbar support is a better alternative. Lumbar support will prevent you from a back strain which when not taken care of develops to sciatica, a debilitating condition.
Adjustability
Well, almost all office chairs have height and arm adjustment. A good chair should at least have 5 adjustments. Interestingly, there are some that have up to 14 different adjustments.
Wheel Base
Nearly all office chairs have a wheelbase. However, if the office has a carpet. You might want to get a chair with wheels specifically made for carpets. You'll have an easier task to access items out of reach.
Swivel Base
A good office chair ought to swivel freely. This way, you'll have an easy time accessing various parts of your desk. Otherwise, you'll get arm fatigue as a result of overextending in attempt to reach items far from your position.
Fabric
A seat with fabric allows the chair to breathe. Otherwise, the chair can become too hot and uncomfortable after hours of sitting in it. Enough cushioning is important to prevent you from feeling the base of the seat when sitting.
Finding the right chair will ensure a more positive work environment. You're sure to increase productivity. If you're planning to purchase one, take your time to secure the best.
Related posts: