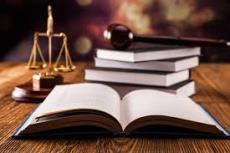 Whilst there are several tried and tested marketing methods to acquire new clients for law firms, nothing comes close to the power of organic search. It is estimated that 96% of consumers use search engines to find legal help;  search engine optimisation (SEO) has become one of the most important strategies for helping law firms be discoverable online, convert leads and generate a profit.
However, simply recognising the importance of SEO isn't enough. Perhaps you're unsure how to make your site more visible and interesting to potential clients? Or perhaps you've been trying to improve your website's rankings with little or no success? With this in mind, here are five top SEO tips your law firm can implement to improve your website's visibility in search engines to attract more potential clients without wasting your time and money.
Start with Keyword Research
Determining your keywords is the first step in your website optimisation. It helps you understand the most popular words and phrases users are typing into search engines which are relevant to your offering. Without conducting keyword research, you cannot possibly begin to improve your search rankings.
As expected, the most commonly used phrases are normally extremely competitive to rank in first position for. It is beneficial for law firms to research the keywords within a niche – for example, if you're a solicitor's firm which covers a variety of cases, such residential landlords, insolvency, etc. then it's likely you'll want to improve your rankings for keywords within these specific areas. Going for the most competitive keyword with the highest search volume doesn't guarantee new clients especially if your business has a physical location. Refining your keywords so they are location-specific will significantly increase your chances of ranking higher and achieving more conversions.

Let's say there's a firm of solicitors which is based in Manchester who specialise in family law wanted to improve their rankings. Using Google Keyword Planner, they have generated the average monthly search volume alongside the average competition for terms relevant to their business' offering. Although 'family law solicitors' has a significantly higher search volume, the high competition means it could take much longer to rank in the top positions, especially if they are currently unranked for it. Instead, they should target 'family law solicitors Manchester', because the lower search volume, and competition combined with the location targeting, would increase their chances of ranking higher and generating more profitable conversions.
You can also conduct keyword research by checking your Google Search Console data to see how you're already ranking for 'low-hanging fruit keywords'. These are keywords where you're already ranking in the 'sweet spot' (i.e. positions 5-15) on a SERP (search engine results page). Targeting low-hanging fruit keywords is one of the quickest and most cost-effective ways to generate results for your KPIs (key performance indicators) with less effort.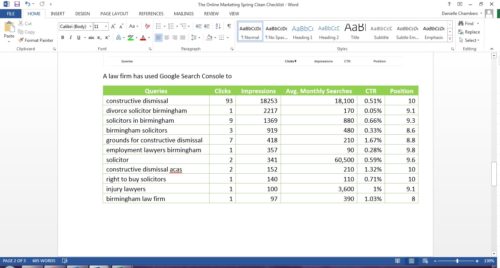 When this solicitor's firm exported their Search Console data and filtered by monthly impressions, a significant number of their positionings for high-impression keywords were identified as 'hanging' at the bottom of the first SERP. For example, considering the firm is based in Birmingham, being in 9th position for the keyword 'solicitors in Birmingham', which generates 1,369 impressions has dramatically affected their Local SEO. Consequently, they have only received 9 clicks and a mere 0.66 CTR (click through rate). By targeting keywords, they are already ranking in positions 5-15 for in the SERP, this business could quickly start to generate clicks, traffic and sales through these quick wins.
Google My Business Listing
For businesses with a physical location, being able to rank for local searches is essential for driving conversions. This applies especially for law firms as your consumers might want to shop around and conduct research within an area that's closest to them. If your business isn't appearing under local searches, how can you possibly turn a potential prospect's attention towards your business?
Google My Business is a fundamental necessity for local SEO. It provides your business with visibility in a search engine results page for searches that are relevant to your business' location, raise your prominence and literally puts you on the map.
You can start setting up your free Google My Business listing by visiting http://google.com/business.  Once you claim your listing, you can display relevant search information about your firm including name, hours of operation, address, telephone number and a link to your website. Remember – each bit of information provided makes it easier for a search engine to target your business' listing at the right people. The more accurate and complete your listing is, the higher the chances it will show up in relevant search results. Consistency is the key to succeeding at local SEO.
You can also showcase reviews on Google My Business. Reviews are extremely important to law firms – if a potential client read several positive reviews about your firm, they'll feel more confident they're choosing the right solicitor to handle their case or matter. According to a Google consumer survey which asked consumers where they are more likely to read reviews about a law firm, 27% responded saying they would read the reviews on Google.
In the example below, Premier Solicitors has optimised their Google My Business listing under the search term 'solicitors in Bedford' to include 192 reviews. As the company has more reviews than any other in located in Bedford, their listing has appears first increasing their chances of generating business from this free advertising.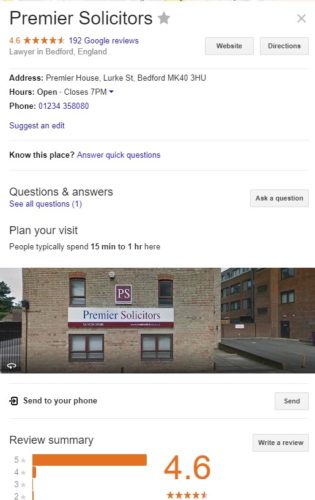 Track Your Conversions to Optimise Landing Pages
Although emails and contact forums are perceived to have overtaken phone calls as a way to contact businesses, this isn't necessarily applicable to law firms. Potential clients might require an immediate response or require an open-ended discussion which is something that cannot always be provided via email and therefore they decide to call your business instead.
Considering 75% of consumers believe a phone call is the quickest way to receive a response, disregarding the importance of phone calls could be costing you valuable data and insights into which landing pages are driving the most and, equally important to identify, the least conversions. Additionally, without analytical data on phone calls, you cannot have a clear picture of your customers' experience with your brand. How can you determine which landing page on your website has led to a specific phone call?
Call tracking allows you to insert unique, dynamic numbers onto individual landing pages on your website to determine which ones are driving the most conversions and whether any require additional optimisation. You can utilise this data to run A/B split testing campaigns on under-performing landing pages, for example moving the call-to-action button or changing the on-page copy to drive further conversions. If you're unsure of where to begin, there are several legal marketing guides centred around call tracking for financial services which  can help your firm.
Publish High Quality Content
With very few upfront costs and the opportunity to generate a high return on investment, content marketing could certainly help  your law firm especially when content marketing costs 62% less than outbound marketing and generates 3x as many leads (Content Marketing Institute). However, did you know that having high quality content on your website is actually beneficial for your SEO?
Think about it – how often do the pages on your website change? Probably not very often at all. That's why you must keep a steady blog filled with new information every week. Every time a blog is updated, it creates a new page on your site with fresh content; this tells a search engine that your website is regularly being updated and is active. Search engines favour sites with a good deal of high quality, relevant content on any given subject, as they thrive by giving users the best, most relevant information in response to search queries. Remember though that you can't just post hundred-word news updates three times a day and expect your rankings to soar. It is recommended that you keep your content unique and over 2,500 words if you're aiming for the top spot for a certain keyword.
The copy on each page also allows you to build links for your target keywords. Make sure you select unique keywords that will lead searchers to your site but not so unique that no one will think to use them. If you target keywords that are used too frequently, you won't receive much of a benefit. The best practice is to use long-tail keywords (e.g. what does a family lawyer cover), which are relevant to your business' offering. Concentrate on answering questions instead of focusing all your attention on keyword placement. Potential customers don't need a million keywords; they need answers.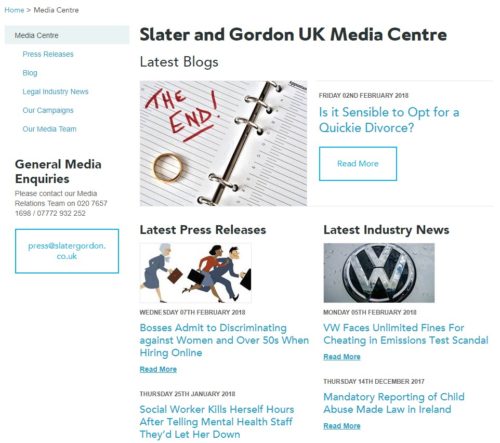 Slater and Gordon have created a dedicated content hub landing page on their website entitled 'Media Centre'. They have included a variety of unique content such as press releases, articles, legal industry news and campaigns. As their blog section is updated regularly with high quality, unique content, Google will start to favour their website over their competitors.
Get Mobile Friendly
Our dependence on mobile phones has increased significantly, with mobile web browsing overtaking desktop for the first time last year. Recent studies have shown that legal firms with non-responsive mobile sites are losing up to two-thirds  of visitors – with bounce rates of nearly 80%; considering that  approximately 20% of those who research businesses on their mobiles are looking for professional or legal services this suggests that law firms are missing a powerful trick with their websites. Law firms cannot neglect the importance of having a mobile-friendly website – both for providing a better UX (user experience) and improving their SEO.
The degree of importance of mobile optimisation shifted dramatically in 2015 when Google's algorithm update revealed that it will favour mobile-friendly websites in their SERPs and penalise those which are not. If your website isn't mobile-friendly you could receive a Google penalty which carries consequences such as fewer clicks, a decrease in positioning and a loss in business. In today's mobile-central world, a website has to meet the following criteria to be deemed mobile- friendly:
Remove incompatible software:g. Flash, which can affect your page load time and prevent content from appearing in full
Tap targets: the areas on a webpage where a user clicks to carry out commands must be placed with enough space between buttons and links so they can be tapped easily
Content: all content should shrink to fit the screen size automatically to remove the need for scrolling
Text size: must be readable and not require zooming or double-tapping
Running your website through Google's Mobile Test is a good foundation for building your mobile-friendly website.
Written by Natalia Selby at Mediahawk