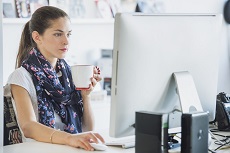 Every year, we learn more about the dangers of sedentary work routines. People in offices, for instance, are significantly more likely to take time off with back problems than those who spend the day on their feet. This is contrary to what most of us assume.
After all, wouldn't standing up all day indeed put a heavier strain on the body? Well, in reality, the spine is aligned when standing, and there is less pressure on the lower back. It is when sitting at a desk that we noticeably slouch, slump, and curve our spines to fit mismatched furniture.
The good news is that business owners can introduce small changes which have an enormous impact on employee health, mood, and well-being. Keep reading to find out more.