Tweet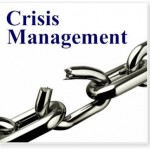 Wikipedia defines crisis as any event that is, or is expected to lead to, an unstable and dangerous situation affecting an individual, group, community, or whole society. For small businesses a crisis can wreak havoc if they are have not made adequate preparation in advance. Most small business owners do not really think about or planned for crisis until it is too late. This is unfortunate because with just little advanced planning and preparation they can not only withstand crisis, but come out much stronger from it.
Here are some basic rules of crisis management to consider and to familiarise yourself with in the event that your company is faced with such a situation. The key to managing any crisis situation is advanced planning.
No excuse
A common saying is that it takes a lifetime to build a reputation but only a few hours to destroy it. This is exactly what crisis can do if you are not prepared, which is why there should not be any excuse to create an action plan that can be deployed on a moment's notice should it be warranted.
Know your threats
Many company executives and most staff can give a fairly accurate list of the potential threats that their company could face. Making this list of potential threat is crucial. Once you know these threats you can draw up and action plan to counteract any of these scenarios that can destabilize your business.
No hiding place
When crisis arises you can out your head in the sand and wait for it to pass. There is simply no place to hide in a crisis situation. Difficult questions have to be answered, Preparing detailed answers that you will need to provide in advance, including prepared public statements that can be put out at short notice are essential to success.
Admit your weaknesses
Most top executives believe that they have an element of invincibility about them and can almost wing-it should there be a need to address the crisis situation. Unfortunately, it doesn't work that way. The crisis time is when your weaknesses are exposed. Admitting these weaknesses and developing mitigation plan in advance can help cope with emergency situation.
Key messages
If your company faces a potential public relations disaster you need to act quickly to diffuse the situation as best you can. It is important to have some key messages prepared in advance based on the potential threats already listed and put out a statement that will alleviate fears in the minds of public.
Outside help
In many situations your company may not be ready to handle the crisis and outside help may be required. Be prepared with a list of outside companies that specialize in managing crisis and don't be afraid to ask for their help should one be necessary.
Every company must have a crisis management plan. You will put yourself in a vulnerable position if you are not prepared with such a plan.
David Wilkinson is a media manager with several years under his belt. Always on the lookout for the latest information in the field, he likes to share his findings by blogging online. He recommends you to look at Crisis management Training by visiting the link.
Related posts: