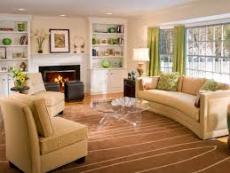 Everyone who owns a home can all agree that you can always find a way to fix, polish or improve something. With today's hectic schedules, it's much easier for homeowners to let the professionals handle all home related issues. That's one of the major reasons why the concept of investing in a home decoration franchise can prove to be extremely lucrative. In fact, statistics indicate that home decoration is a $300 billion market that is expected to rise. In this post, we're going to take a close look at five of the best home improvement franchises that are available.
Interiors Decorating Den

This franchise was created with convenience in mind first and foremost. The company is able to bring interior decorating related services directly to their customers. Some of the decoration products they provide include wall and furniture coverings, drapery and furniture as well. The company itself costs a little under $50,000 and can be set up at home. Franchisees must enroll to a 45-day course and a 2-week training session provided by Decorating Den.

N-Hance

N-Hance is a home improvement franchise which gives homeowners the ability to refinish various items as opposed to replacing them. They essentially provide dustless, odorless cabinet refinishing and wood floors in as little as 24 hours, so enable customers to stay on the vicinity without having to cover their furniture or do any kind of preparation. This franchise costs a little under $100,000 and can be set up at home.  A good franchise marketing strategy could really help with this kind of business.

Electric

Mr. Electric is an extremely popular franchise which provides electrical repair and installation services to commercial and residential customers alike. With over 160 locations spread out across the country, their popularity and brand awareness is expected to rise. It's also worth noting that this franchise has national partnerships with Tesla Motors and Home Depot. To invest in a Mr. Electric franchise, only a minimum of $50,000 is required, which is perfect for new franchisees.

Discount Tile Store

The Discount Tile Store franchise counts over 100 units situated on the western portion of the United States. Every store consists of a showroom which showcases several tile products such as ceramic tiles, stone tiles, medallions and granite tiles. The company offers their franchisees a set product list, which dictates what they should stock as well as pre-established relationships with vendors which all over low prices.

ProSource Wholesale Flooring

ProSource Wholesale flooring operates through showrooms that are available to members only. The company offers round the clock access to over 25000 products from over 250 suppliers from around the globe. ProSource offers its franchisees the chance to bank on a solid member base as well as benefiting from the company's huge buying power. This gives franchisees a leg up over the competition when it comes to pricing and the company offers extensive online training to its members.
When it comes to investing in a home improvement franchise, contrary to popular belief you don't need to spend hundreds of thousands of dollars to get started. Some of the most profitable franchises can be acquired for as little as $50,000 and usually rarely ever goes over the $100,000 mark. It's also worth noting that in the modern day, more and more franchises are also providing their franchisees with extensive, yet valuable information surrounding their target demographic and marketing approaches, in an effort to enhance their chances of success.
Related posts: