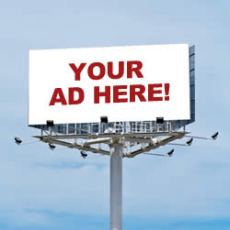 Advertising can help business owners grow their business, but only if done right. As some businessman famously said – "I know half of my money spent on advertising is wasted. I just don't know which half!" Spending money on advertising without having a good plan and understanding of customer base with just result in a waste. Small business owners are in a more precarious situation when it comes to advertising. They do not have lot of cushion and extra cash to waste on wrong type of advertising. That's why it is important to find the type of advertising that works for them and doesn't cost too much money. Here are 4 avenues you can consider to advertise your business.
Get out in the Community
There's no better way to get to know your customers than to meet them face-to-face. There are many different types of community events to get involved in, for example, volunteering, business networking events, community gatherings and much more. The key is to go out, find your customers and meet them one on one. Get to know them as a human being and show them you care about their needs. Show an interest in what they like to do with their time.
Advertise Online
Advertising online is a great way to get in front of your customers and keep working in the office at the same time. The landscape is a bit confusing, so if you'd like to make sure you're featured and searchable, it's probably a good idea you work with a company that specializes in PPC management services. They're experts at getting you on the right sites and making sure potential and existing customers see you. It's a small investment with the potential to have an excellent return. Nowadays, many if not most people can be found online, so investing in an online presence is a smart move.
Gather Reviews
Gather reviews from customers, especially those who love you. Simply ask them to write a review for you, and I'm sure they'd be happy to do so as a favor of your great service. Once you have the reviews, post them on your webpage if they aren't already. Also, make sure they get on all the review sites online, so you have a high number of stars. People who've had a pleasant experience with you should have no problem taking a few extra minutes to write a review. This is especially helpful for small businesses who may not have as many as the large companies.
Be Active on Social Media
As a small business, it's important you're active on social media too. Once again, it's about going where your customers are and making sure you're visible to them. Get a Facebook business page or fill out your profile on LinkedIn. Whatever your social media platform of choice, it's important to be present, but once you're there, make sure to invest time in being active. Social media is a great place to ask for introductions and learn more about your customer. It's also smart for you to show your knowledge and share tips and tricks about your business or industry.
Managing a small business comes with its perks and challenges. One of these challenges being, advertising and marketing yourself when you're busy doing the office work. Use these tips to get started advertising yourself in your local community and online.
Related posts: